One of the few definitive trends in "street" vintage this year seems to be plaid flannel. When I think of plaid flannel, I'm immediately whisked back to my days as a grunger in the early 90's, but the history of this snuggly fashion goes back MUCH further than that. Technically speaking, kilts are the ancestor, but you can also look to the godfather of the woolen plaid shirt - Pendleton. Here's a snippet from Pendleton's website about the history of said shirt:
Wool shirts for men were largely utility items in the early 20th century. Drab in design and color, they were worn for warmth and protection from the elements by those who worked outdoors. Clarence Morton (C.M.) Bishop had a vision for wool shirts in vivid colors and intricate patterns. The production of woolen shirting material was a natural extension of the mill's capabilities. In 1924, the legendary Pendleton virgin wool men's shirt was born. By 1929, Pendleton was making a full line of men's virgin wool sportswear... ...A new thread was woven into the Pendleton corporate cloth in 1949 - womenswear manufacturing. Market research identified a need and an opportunity for branded virgin wool classic sportswear for women. Nevertheless, no one could have predicted the enormous success of a single garment introduced with the Pendleton womenswear line that year. The 49er jacket gained instant popularity. Its simple, casual styling and intrinsic value were a perfect match for the emerging suburban lifestyle of postwar America.
Now, don't get confused. If you're in the market for a TRUE 49er jacket, then it must be labeled "Pendleton." I've included an advertisement from 1954 below to give you an idea of what one looks like. Here are some other features to look for:
General Features:
* hip length
* shell buttons down the front
* offset diagonal patch pockets on the front
For early jackets:
* notched collar
* flanged at the shoulders
* shell buttons at the cuffs
If you are looking for a Pendleton manufactured piece, the plaids should be matched up at the seams. If you find one where the plaids seem to be off, then it may be a home sewn piece. Pendleton often sold their fabric to home seamstresses and provided a tag as well.
Also, keep in mind that if you want an early 49er jacket from the 40's or 50's, then you'll need to do some research on what the original tags look like AND what mid-century materials feel like. 49ers post-dating 1964 will have the wool symbol on the tag. Pretty soon, our sister site,
myvintagecompass.com
, is going to be launching a label resource that will be able to guide you on these matters.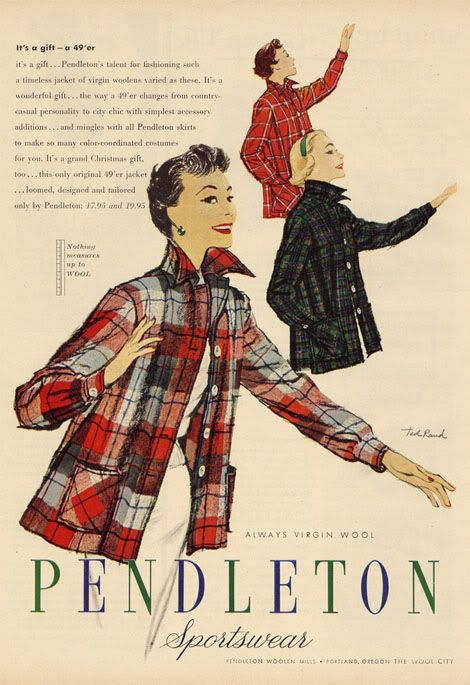 If you're just in the mood for something remniscent of the style, and you're itching to get your hands on some vintage plaids for your wardrobe, I've found a few for you already (you can find them at the bottom of this post!) My tip is to avoid paying big bucks for common 80's flannels and stick to the real deal. Or, if you're gonna go newer and non-Pendleton, try a variation on the plaid theme with items like plaid wool coats, accessories and tailored tops. Trust me, quality gets you more bang for your buck - especially with woolens.
All of this brings me to the Polyvore of the Day, brought to you by
Yannisa*
. This particular Polyvore is a great example of how
the modern woman
might actually wear a plaid piece.
Where to get the Look:
1. Original Composition: 1970's Pendleton 49er Jacket @
Bustown Modern
2. Variation on a Theme: mid 1990's Vivienne Westwood Belt @ VintageCouture